International
Sarah Everard vigils: Met police 'will have to explain' arrest at Clapham event, says Home Office minister – live
A group of five from Edinburgh Reclaim These Streets laid flowers and candles at a vigil for to remember Sarah Everard on Sunday evening.
Two members of the group, Kat Cary and Chloe Whyte, walked up the Royal Mile to light candles at the door of Edinburgh Castle.
Earlier, Cary told the Guardian she was shocked at the different approaches that police forces had taken and believed it emphasised that this was a moment for women to come together.
I've been in the military for 12 years where I couldn't forget I was a woman and couldn't forget I was different. It's been a few years but this has jogged my memory."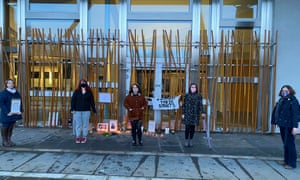 Source: Sarah Everard vigils: Met police 'will have to explain' arrest at Clapham event, says Home Office minister – live